Olive Dickason Collection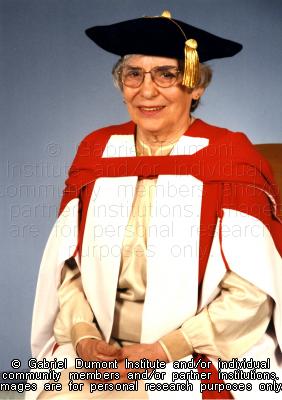 Olive Dickason (1920-2011) was an historian who changed how Native-Newcomer Relations is studied in Canada. Perhaps more importantly, she gave Aboriginal peoples agency in our national narrative. In a well-lived life, Dr. Dickason was a journalist, academic, social activist, and political candidate, and a single mother.
In 2012, Olive Dickason's daughters—Anne Dickason, Clare Trzeciak, and Roberta Maron—graciously donated their mother's papers, photographs, and various ephemera to the Gabriel Dumont Institute.
The Olive Dickason Collection ranges from the 1940s (with the start of her journalism career with the Regina Leader-Post) until the mid-2000s. This collection contains several hundred newspaper clippings relating to the subject's early journalism career in Regina, Winnipeg, Toronto, and Montreal (1944-1957), and dozens of letters and memoranda relating to her academic career (1970s-late 1990s). Other documentation in the collection relates to her campaign against her forced retirement against the University of Alberta (1980s) which went to the Supreme Court as well as her candidature for the provincial NDP in an Alberta election (1993). Also included are convocation addresses, several dozen copies of various academic articles, and personal letters and photographs with family members (1940s-2000s). Finally, the collection also includes various awards and citations, such as the Order of Canada, a National Aboriginal Achievement Award and various honorary doctorates.
The GDI Museum has a dedicated room devoted to showcasing this collection. In her lifetime, Olive Dickason was recognized as being Métis, however, recent research by the Gabriel Dumont Institute has found that she would not be considered Métis by today's criteria. The inclusion of this collection on this website and in the Institute's museum serves to honour both her contributions and to provide a needed discussion on Métis identity. For those interested in knowing more about Olive Dickason and her unsuccessful journey to find her Métis Identity, her biography, by Darren Préfontaine, can be found here: https://gdins.org/product/changing-canadian-history.
GDI acknowledges the financial support of the Saskatchewan Lotteries Trust Fund for Sport, Culture, and Recreation through SaskCulture Inc. for the inclusion of the resources in this section of this website.